South Bend Brew Werks is a unique blend of old and new South Bend with several unique features and furnishings that give it character and help this new business feel like it has been around awhile.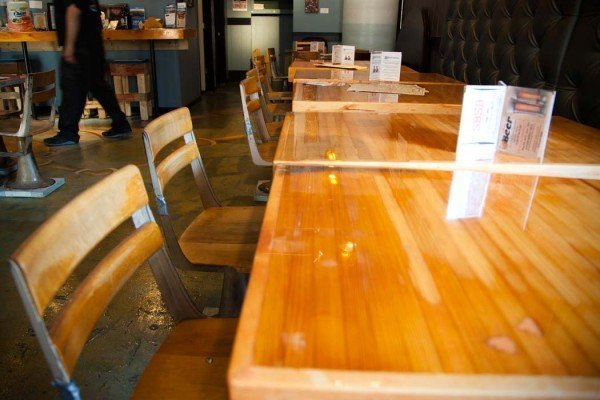 Chairs: We got these bad boys from the old St Joe High School. Father Bly wouldn't let them update his classroom so everyone who has been through his Old Testament class has probably sat in these chairs before (and probably left their gum…we found a lot of it!). Special thanks to our Uncle Larry who noticed them at the Habitat ReStore and acted quickly to secure them for us. Add your own story to the history by signing the base!


Bar & Tables Tops: Made from reclaimed bowling alleys sourced from the Beacon Bowl which used to be located on Lincoln Way out by the airport. A non profit group is turning it into The Beacon, a community center and social entrepreneurship incubator. We are grateful to them for their generous gift and to Indiana Rug Co for refinishing them.
Tap Handles: The Maestro's evil twin Ross designed these handles using wood from one of the old Ward Baking skids topped with gears from eBay. Ross also makes awesome things like cufflinks via his business RMV Design.


Stools: Hand made from leftover wood and pallets then topped with stadium seat cushions (Go South Bend Cubs!), these stools are rustic yet sturdy and serve the function of holding your tush surprisingly well.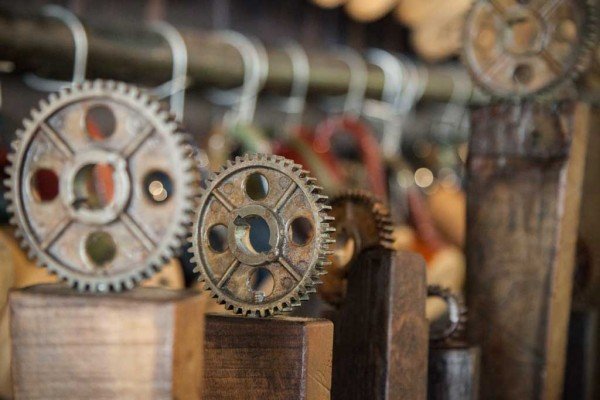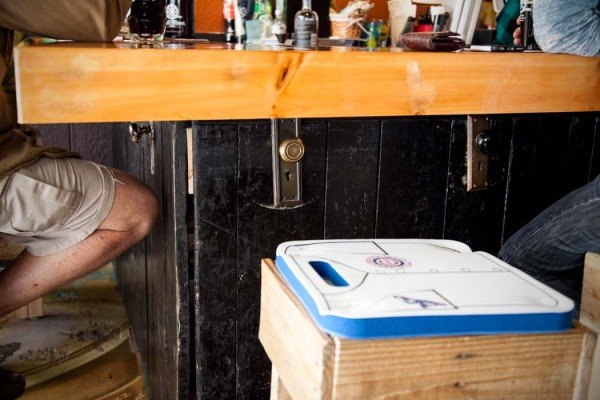 Table Stands: Our very own Joel Miller crafted these stands from pipe which was recovered during the renovations in the basement of the Brew Werks. Long live the pipe!


Bar Front: Constructed of skids (the precursor to pallets) made of oak that were salvaged from the old Ward Baking (also Kreamo) facility on Portage. We have access to these thanks to the generosity of Paul Ford whose family ran a distribution company out of the same building. Purse hooks made of old door handles was another Uncle Larry original idea.
Wall Pallets: Finding new life as art hanging devices, these pallets were saved from shipments of grain and other goods at the homebrew store we ran prior to opening the brewpub.


Bathroom Mirrors: These mirrors are antiques generously donated by our Uncle Larry. We did have to replace the glass in the tall mirror in the ladies' room but it retains the charm of the 100 year old pockmarked glass it replaced.